Dye has a lot of paintball guns in its lineup. From the super high-end M2 to the very unique Dye DAM Assault Matrix, you can say that Dye has one of the best paintball guns lineup in the whole market today.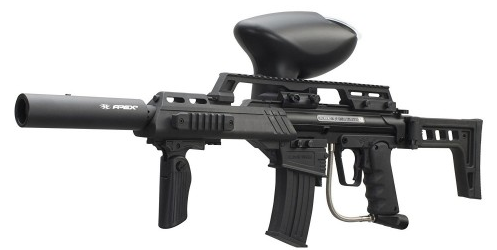 This trend clearly continues with the Dye Proto Rize paintball marker as well.
This is an electronic marker that comes in 5 different colors. By default, you can use this gun in any of the 4 tournament ready firing modes it comes with. What's special about this gun is the self-cleaning mechanism. The firing bolt is designed in such a way that the ball indents clean itself every time you fire the gun, which means that there are no busted paintballs ever.
It is no surprise that Dye have used a one piece barrel as they really wanted to make this a gun that never, ever jams.
The grips on this gun have that trademark sticky feel that you get with all Dye guns. The operating pressure is very low at just 140 PSI. This means that your tanks will last a long time. The o-rings in the gun are color coded and you will receive spare o-rings that you can easily swap out after regular intervals, to always ensure that your gun fires in the most pristine of conditions.
The display is just a LED light but it does the job of letting you know which firing mode you are in. The aluminum trigger is just a joy to pull. You can adjust the play of the trigger with a given allen wrench, so you can control sensitivity according to your playstyle or your paintball game needs. Dye have reworked the solenoid on this gun extensively, to ensure great durability. Having too much pressure of air flow in from the tank is never going to be a problem with this gun.