Facebook, ever since its inception has been taking over the world by storm. It has, in a way become a second world for the users, as most of them are addicted to this social media platform in such a way as if it is their life. However, it is important to realize that there are always looming large possibilities of someone hacking Facebook account of a user and actually invade the privacy of the concerned user.
Frankly, enough it is not very difficult for anyone to crack Facebook password. A person can hack a Facebook account in several ways: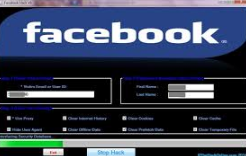 1. Keyloggers are one of the most popular methods of hacking a Facebook account. One can install it on the computer of the victim and make settings accordingly so that when the victim uses his username and password to open his account, the keylogger would trace those letters and send them to the hacker via email.
2. Hardware Keyloggers are a modification of software keyloggers, as it requires a USB card to be plugged to the port of the victim's computer while he accesses his Facebook account to attain the data directly of the password of the victim.
3. Phishing is another method that is used to hack Facebook account. Under this method, the user creates a fake Facebook website with a different but resembling URL, which the victim is, bound to ignore and once he types in his username and password, it is all sent to the user, which gains him the key to access the victim's account.
4. Stealing cookies of the Facebook account stored on the victim's computer also helps gain the user access to the victim's Facebook account though it does not provide him with the login details.
Hacking Facebook account is easy unless people are actually smart about it.
For more information please visit (hackear facebook online) Facebook hack online.